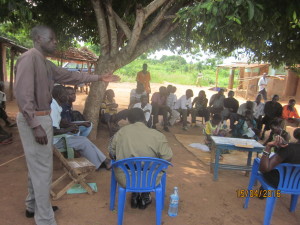 On 27th January, 2016 Mr. Bonefence Bikobo report a case to BIRUDO office for mediation on land and compensation which Tullow Oil Company is to pay him on access road. But the son Mr. Robert Wathaum claim that the land where access road is belong to him, it was given to him by his grand father. on 20th Feburary, 2016 Mr. Robert Wathaum was poison and death on the same day. He left two widows and three children who are trying to followup the case. BIRUDO try the engage Mr. Bonefence Bikobo to resolve the case on one to one but failed.
On 15th April, 2016 BIRUDO organised a mediation meeting in their Village which was attended by Tullow Oil Company SP-Coordinator Ms. Keren Atugonza and Inspector of Police incharge of CFPU Buliisa District Ms. Kalsium M. Bioga and the Village community. The Widows made a demand to share both land and compensation money but Mr. Bonefence Bikobo refused to the demand said he will not accept dividing both land and compensation money.
Therefore these widows and children help to protect their rights over this land and the compensation money.